Target. Objective. Aim. I'm not big on making or keeping New Year's resolutions, but one of my general goals is to continually connect to why I love Middle Eastern dance. Variety and challenge can help a dancer find motivation and inspiration, and these tricks can be done any time of the year:
1). Try different music: A real connection to and appreciation of your music adds to your performance. If Middle Eastern music isn't your cup of tea, try practicing to something you really like. You Tube has plenty of videos of belly dance routines done to rock, metal, hip hop, R&B, and even swing. Or for another challenge, try dancing without music or to accompaniment of zills or tambourine. If non-traditional music isn't allowed at your shows, experiment within the spectrum of Middle Eastern music. Do you prefer dreamy, classical songs? Try Arabic pop or a short, punchy drum solo instead. Dance to accents if you don't normally, or vice versa. My first choice of music wouldn't be to a horse whinnying or a woman screaming, but changing the music can be a lot of fun, and tests and stretches drill and choreographing ability.
2). Evaluate your use of props: Are you prop-heavy? Do you lug a house on wheels to every show, crammed with swords, zills, veils, fans, canes, and anything remotely dance-related? Or do you harbor a fear of props and use them only when you can't run away? Whatever your situation, challenge yourself to either learn a new prop or dance without one. Props add visual interest for an audience. They provide great photo ops, and they're a good way to demonstrate your dance skill - you can not only keep your body under control while dancing, you can also manipulate something else. On the other hand, dancing without a prop also demonstrates your skill - you don't need to hold onto something to keep the audience's attention. Another reason to learn to dance without props? They can be dangerous in small, cramped spaces, such as restaurants. Veils and swords outside on a windy day are also tricky.
Props should be matched to locations with enough space to really show your skill, and you'll need a back-up plan (or a lot of luck) if you can't get those choice venues. Whatever you choose for this challenge, good teachers, workshops, and performance and instructional videos can help. If you think you can't fill a whole song without a prop, pick a body part. Do you love veil work, but aren't sure what to do with your arms when you're not holding a veil? Take a workshop on how to have pretty hands and arms, and play that up in a routine. Speaking of workshops...
3). Take workshops: They're a great way to learn from teachers who specialize in a different aspect of the dance and who you might not be able to regularly study with. Workshops take you out of the comfort zone (or possible rut) of knowing what to expect from your regular teacher, and introduce you to someone who has a different perspective on Middle Eastern dance. Each teacher also has a different way of putting moves together (and probably a different name for each move). Studying with a different teacher makes you a more well-rounded dancer and exposes you to other students and other styles you might like. Performances and vending are also attached to most workshops, which gives you a better idea of the teacher's performance style, how other students dance, and the opportunity to add to your wardrobe. Commuting to a workshop with local dancers is a great bonding experience, too. If nothing else, even picking up just one useful combination (or a really cool belt) can inspire new drills or a new routine.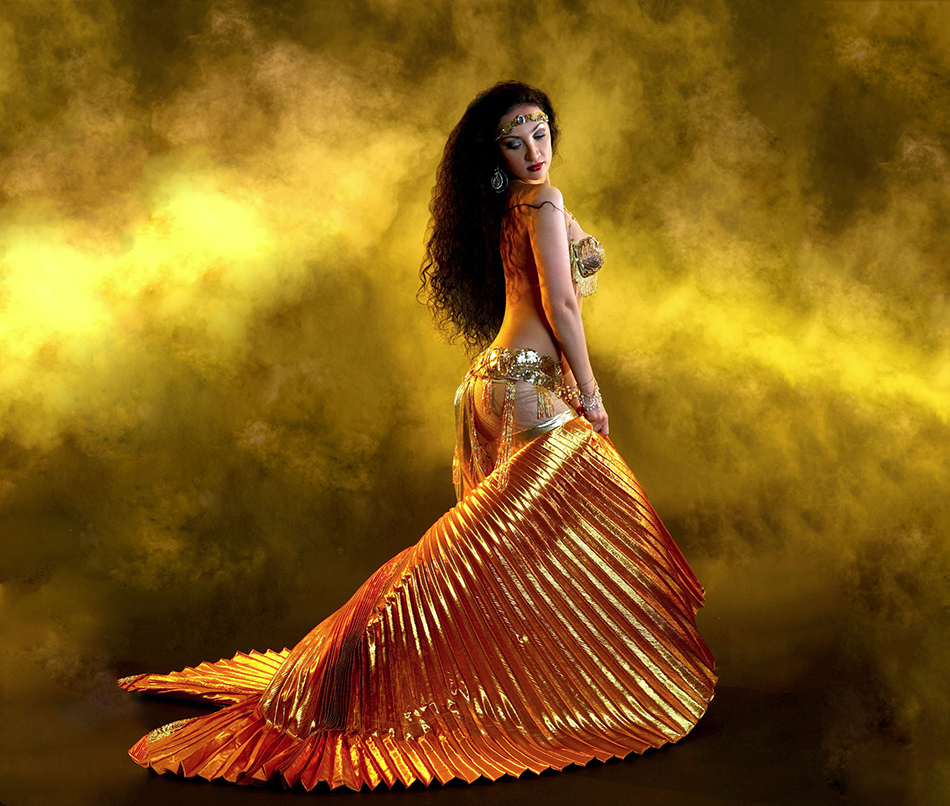 Bellydancer

Bellydance is an expressive dance which emphasizes complex movements of the torso. Originally a Middle Eastern folk dance, it has evolved to take many different forms depending on the country and region, both in costume and dance style. New styles have evolved in the West as its popularity has spread globally. | Bellydance, Dance, Costume, Smoke, Shiny, Shimmer, Glitter, Glamorous,

4). Mix it up: Do you feel like you always do the same thing over and over while improvising or choreographing? Write at least 10 different moves on separate slips of paper, put them in a box, and then pick at random. Put at least three slips together and try to use those moves in a combination. This helps you experiment with how different moves can be layered or put together (should I do head slides and a backbend at the same time?), and good transitions between them. It also forces you to be creative. It's a good way to practice drills and choreograph.
5). Try a new dance style: I appreciate dance styles a lot more after I try them. Taking a year of ballet made me realize (and sometimes envy) how comfortable I feel in belly dance. Being comfortable in one style doesn't mean you'll automatically excel in another, but it's a good way to meet other people, walk in their dance shoes, and resist the urge to become a dance snob. ("You mean some people dance without wearing sparklies?"). I've been inspired lately by ballroom dance and partnering. I might not be able to use those concepts in Middle Eastern dance, but ballet's grace and flexibility are very transferrable. At the very least, learning a new style can give you the background needed for a fusion routine.
Business advisor Price Pritchett said, "Change always comes bearing gifts." The gifts that come with an occasional tweak in your dance life can include becoming a better dancer, making new friends, being inspired to create something new, and being motivated to keep dancing. The change doesn't need to be drastic. One of the best changes I made to my life was to start dancing. I've found that the occasional shift or challenge makes me want to continue dancing, and that's a constant gift.