Oh, man, talk about a thorny issue. The truth about standards in belly dance costuming is that, currently, there is no absolute truth. You ask ten American belly dancers about what lines not to cross, or rather, to reveal, and you will get ten different answers.
This topic also skirts dangerously close to the burlesque vs. belly dance conversation that has been happening since 1893, one of the first times in America's history the two seem to have crossed paths. An article on Shira's website gives some interesting historical insight as to why so many of us belly dancers are so touchy about it.
As belly dancers working in American owned or, at least, patronized, restaurants, we tow a strict line regarding dress and movements. The cold, hard truth is that America is a religious and conservative country with a lot of feminine body issues. Perhaps this is because feminine bodies are more visible on the streets and in our media. Perhaps it's our Judeo-Christian upbringing as a nation. I do not know. However, as a belly dancer in Louisville, KY, I have been solicited for sex acts, bar dances, lap dances, given the wink-wink-nudge-nudge and told blatantly that my dance form is not a subject for polite discussion
period
so many times that I, too, have become pretty defensive.
It seems the untrained American eye is always looking for a stripper where there shouldn't be one. As a result, I've even strayed from the traditional American Cabaret veil unwrap in preference to the Egyptian entrance with the veil out. This is due to the fact that sometimes when I unwrap in the restaurant, I get a narrow-eyed "I knew it!" look from female clients trying to eat their meal in peace.
So, you may not agree with what I'm about to say, and it may make you feel very uncomfortable. Because I'm about to direct you to your costume closet and ask a simple, "yes or no" question.
Can you look at yourself in your costume, without movement, and honestly know what you're going for? Because a professional belly dance costume absolutely must speak for itself. If people tend to think you are a burlesque dancer or a strip tease act based on your costuming, then yes, you are either wearing too little or you are taking something off. And that's not belly dance. Your belly dance costume should be easily and immediately recognizable for what it is: a belly dance costume.
Vintage Bellydance

Bellydance is a often described as a type of Middle Eastern dance. Originally a "solo, improvised dance involving torso articulation," bellydance takes many different forms depending on the country and region, both in costume and dance style, and new styles have evolved in the West as its popularity has spread globally. | Bellydance, Belly, Dance, Middle Eastern, Arabia, Arabic, Ancient,

(The flip side of this is that burlesque performers have been known to purchase bedlah and strip in it. To burlesque performers everywhere: Please never do this. You may find that expensive costume in the toilet. Read
Snake Hips: Belly Dancing and How I Found True Love
by Anne Soffee.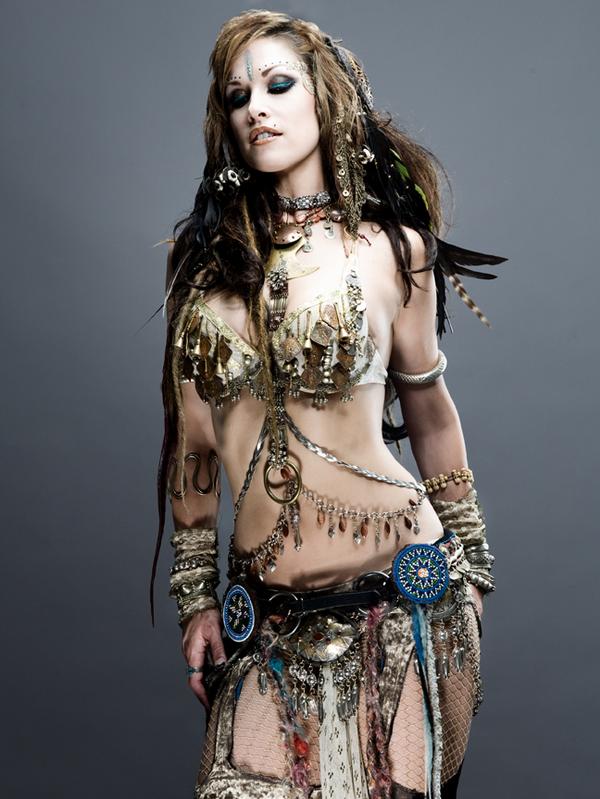 Sherri Wheatley

Sherri Wheatley's interests: Dance in many forms, teaching, costuming, rescuing abandoned animals (and spiders in danger of drowning in the shower), tuna tartare, hiking, mountain biking, yoga, burlesque, cirque, making things with my hands, communing with nature, traveling, having a well-rounded existence, practicing kindness on a nanosecond to nanosecond basis, helping people push their limits and grow in a safe, supportive environment, doing my best to find the beauty in Los Angeles.. |

As a rule, if your costume is of a sexually explicit nature, or could be worn by a burlesque performer, strip tease dancer, pole dancer, or other dance act of a sexually explicit nature, odds are you've gone too far and are damaging the reputation and
chances of employment
for us other Cabaret and Oriental style belly dancers who offer a family-oriented or, at the very least, G-rated show.
Think about it in terms of movie ratings. You wouldn't wear the Baby Jane costume from
House of 1000 Corpses
into a swanky, five star restaurant, right? Nor should a belly dancer wear NC-17 level costumes in a restaurant where children are present and polite folk are spending their money.
Here in Kentucky, our costuming is part of our "I'm not a stripper or prostitute" defense. The local adage goes "Belly dancers wear more than ballerinas and we don't take a stitch off." If our costumes become too suggestive, too sexual, too revealing, then we lose the respect of our American audience. Many American belly dancers in this region choose more subtle or modest costumes. Harem pants and large circle skirts are a standard of dancers in Louisville, as well as belly covers and sleeves. In some cases this is how you can wind up with a troupe performing a cabaret or oriental piece in cholis and 25 yard skirts! AYEEYEEEE!
Perhaps there are places and times that belly dancers will not be confused with other kinds of dances (and services) and more sexy, revealing costuming will be acceptable but in the non-Chicago Midwest/South, now is not that time. For now, and as long as my troupe receives day-after phone calls soliciting us for dates from the man who booked us for a birthday party, I'll stick to Turkish vests, harem pants and l
ayers, darling, layers.
A final word

If you are not willing to dress the part, you're probably not really willing, or perhaps capable, to play the part. And as Shira says, it might be better for you to look for other professional performance opportunities, and leave the traditional venues to more traditionally dressed dancers.



Vintage Bellydance

Bellydance is a often described as a type of Middle Eastern dance. Originally a "solo, improvised dance involving torso articulation," bellydance takes many different forms depending on the country and region, both in costume and dance style, and new styles have evolved in the West as its popularity has spread globally. | Bellydance, Belly, Dance, Middle Eastern, Arabia, Arabic, Tribal,