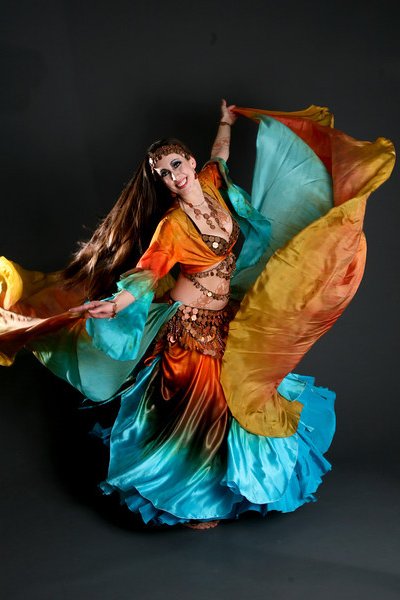 Sarah Skinner
Sarah Skinner with Egyptian Queen: Circle Skirt, Gypsy Top, and Large half circles. Veil also in Egyptian Queen! Featured colors: Tangerine, Mandarin, Delphinium Blues. | Photo: Meagan FairyCove | Link | Sarah Skinner, Egyptian Queen, Meagan Fairycove, Veil, Tangerine, Mandarin, Delphinium Blues,
Veils are a Popular Belly Dance Prop!
Veils have been an integral part of many styles of belly dance for several decades now, and come in all sizes, shapes and colors to compliment your costume and performance. Entire workshops are dedicated to veils and veil work, and rightly so. Businesses in our world specialize in many different tantalizing veil products.

Knowing what you plan to use your veil for is helpful in determining which veil to select for your performance. For example, Egyptian dancers typically use veil only for entrances, and it may be that here that you see one of the ones with embellishments. They also often make nice cover-ups when full cover-ups are not needed. The heavily sequined ones are not best, however, for serious veil work, as they are more apt to get caught up in your hair or costume.

There are different shapes of veils, three yard rectangular ones being a favorite. If you are taller or have longer arms, 3 1/2 or 4 yard veils may be better for you. You can find half circle shapes, and occasionally ¾ veils, though not as often. I actually own all of these shapes. Veils have also morphed into fan veils, which are popular these days, and related are Isis wings, also popular. Be careful to ensure you aren't excluding actual dance technique while using these props.

Silk veils are a favorite of many dancers including myself, and come in different weights or habotai for you to choose from. The lighter they are, the easier they float, but too light can have its disadvantages, such as less control in the wind if dancing outdoors. Silk tends to stick to velvet, so be aware of that as well. (Veils should always be test driven along with your costume.) You can get solid colors, tie-dyes, patterns and all kinds of gorgeous work in silk.

Other veil materials include the chiffon veil, which come in a myriad of colors and work well when you want to do work inside the veil where the audience can still see what you are doing. These are best when they are hemmed, which assists in holding on to them. Not as seem as commonly as they used to be are tissue lame'. I have seen some gorgeous double veil work with these types of veils, though these take a little more arm strength and loft to work. There are some nice "liquid" materials out there, (which tend to be on the heavier side) and occasionally for special occasions you might use something completely different such as lace.

Veils are for purchase at most belly dance events so you can test drive them. You can order online, including special orders where you work with the vendor for the styles and colors you need to match your costume. You can order a bolt of silk or purchase one at some fabric stores, and dye it yourself. This is a great option especially for troupes, it's a money saver and can look however you want it to be.

Veils make great wraps, and workshops and DVD's provide instruction on technique and use of veils. You can frame all kinds of movements with a veil, enter with it, or perform an entire dance with it. Then of course, there is the famous "Dance of Seven Veils" that you might see a dancer occasionally take on where creativity wins the day with all the ways to start with 7 veils and get them down to one by the end of the performance. Veils have been a favorite prop, and I foresee this trend continuing as the dance continues to evolve; yay veils!