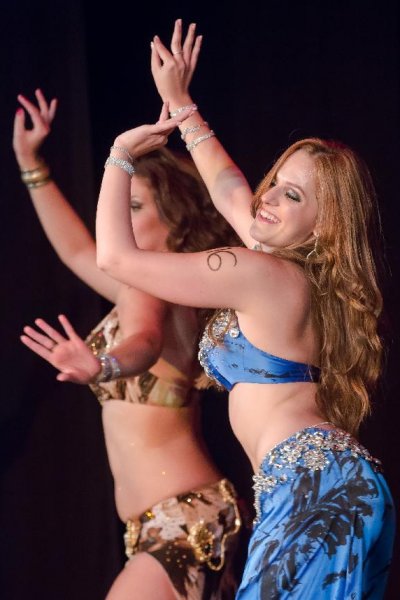 Alexandra Varga and Leila
Leila and Alexandra Varga (r) performing during the Miss Bellydance Hungary competition in Budapest, Hungary. | Photo: Attila Volgyi | Alexandra Varga, Leila, Duet, Veil, Bellydance,
Special Relationship of Duets
When I first started practicing duets, my first impulse was to hold my breath. It was my way of handling what seemed like an identity crisis—how do you merge your dancing with another's on a progression of movement? Learning to dance a duet in belly dance, or other art form, is to practice the art of intimacy, which is both a comfort and a dare. Depending on the moves, there may be inches between you. Duets are most arresting when the movements are slow and sensual, and this requires familiarity and trust. Two women dancing together in this way, for example, can express female solidarity, but it took preparation for me to get comfortable with doing it.

I knew it would be important for me to remain open so we could give each other freedom of movement. I had to be willing to accept that I wasn't perfect, and that my dance partner might make mistakes and articulate quirks too.

One of the challenges of this is being able to comfortably look eye-to-eye with your partner when you dance. That might not sound that difficult until you try it. When you look at someone's face for any length of time it can feel very strange, as if you're looking at them with a magnifying glass. Eyes speak. When you are this close you can tell whether or not they are comfortable with you so near.

Allowing yourself to be "seen" can also invite feelings of vulnerability. Not everyone is accustomed to dancing close to people they are not romantically involved with. Belly dance duets are like intimate relationships in that there is the same sense of a back-and-forth exchange of energy, and a process of sharing your body in close physical space with someone.

As I started to master important movements over the years, like layering a shimmy on a traveling step while playing finger cymbals at the same time—and smiling—I started to wonder what to "do" with the intensity of the emotional experience and what I was learning. Dancing for an audience with expectations was an exhilarating and frightening prospect, especially as a soloist. That's why in the beginning I staked my burgeoning confidence on being part of a tribal belly dance group blessed by a small band of musicians.

Now when I perform, I can feel myself relinquishing boundaries and sharing a consciousness on stage with others, especially during duets. Instead of holding myself in, I am softening, pushing my belly, my arms, and my spirit outward with more composure and grace.