What are you practicing?
On a long-range level we're practicing to grow and improve. The
short bursts of practice
keep us moving, and
journaling helps us see the impact of our work
. These two daily habits, along with
making sure we're practicing safely
, can move us forward towards our big goal of becoming a better dancer. Is that enough?
It is common to need something a little more specific to keep the momentum going on those rougher days when thing after thing is jumping in between you and your practice session. Setting dance goals can make all the difference in keeping you on track.
We set goals all the time, right? At work it's common to have quarterly or annual goals. In our personal life we often set goals around the house or around desired habits. So, why not in dance?
"A better shimmy", however, won't take you very far. For goals to be helpful, it's best to make them S.M.A.R.T: Specific, Measurable, Achievable, Relevant, and Time-based. Let's break this down by setting a SMART goal around improving your shimmy technique.
   In
3 months
, I want to be able to
sustain a knee-shimmy
that is
visible on video recorded from 6 feet away
for
2 solid minutes
.    
Specific
      Knee-shimmy    
Measurable
      Visible on video    
Achievable
      2 consecutive minutes    
Relevant
      Recorded from 6 feet away    
Time-based
      Within 3 months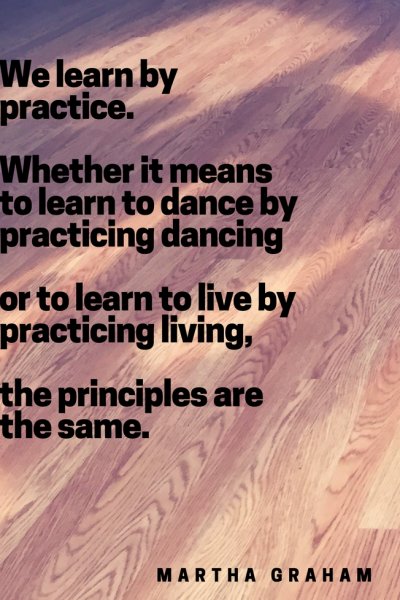 Martha Graham

Martha Graham (May 11, 1894 – April 1, 1991) was an American modern dancer and choreographer whose influence on dance has been compared with the influence Picasso had on the modern visual arts, Stravinsky had on music, or Frank Lloyd Wright had on architecture. | Photo: Martha Graham |

Making SMART goals makes it more likely you'll be successful, and there's nothing more motivating than reaching a goal.
Starting small, think about one month from today – where do you want to be? Grab a piece of paper and a pen and do a brain dump of what you'd like to accomplish over the next 30 days in terms of your dance. Once you have your list, edit each item into a SMART goal. Here's a sample from my list:
Solo Choreography
SMART: I want to develop choreography for a 3-5 minute song by September 9th to be performed on September 24th, 2016.
3-4 new ATS moves
SMART: I want to be able to lead ATS improv with an additional 3 moves within the next 2 months.
Group Composition draft
SMART: I will develop 3 motifs to be used in my next group composition within the next 30 days.

You can see that, once I dug deep and made my goals SMART, I realized I needed to adjust my timeline to keep things Realistic and Attainable, and that's ok! Seeing and making these adjustments is part of the process.

Take the time out to sit down with pen and paper. Mapping out where you want to go defines your practice and gives you focus. Even if you don't look at the list again, you'll benefit from the process of creating it. Of course, working your list will get you even further…more on that in an upcoming article!

For now, keep warming up and dancing daily, keep journaling, and keep your goals in mind (and in reach).