I am excited to share reflections on the gorgeous Belly Dancer's Treasure Pack cards for the new Bellydance Superstars magazine.
This Exploring the Cards
section is very much an open canvas, but the aim is to stimulate your creativity and imagination and to enrich and empower your dance practice and everyday life. In true Treasure Pack style I decided to choose a card at random to share with you all and opened up the process to a friend. I chose ANGEL, he chose PYRAMID!
Wow, two interesting cards with very differing meanings and interpretations for our dance. The ANGEL card is from the deck's elemental section of AIR/Feathers and PYRAMID is from the EARTH/Coins section. We will be exploring the elemental themes in another article! Here are some excerpts and deeper explorations on these two cards from
The Belly Dancer's Treasure Pack's
guidance book.
ANGEL
- Through this Feathers card we delve into aspects of Spirit, transcendence and the numinous qualities that can infuse and inspire us in our dance and life. The affirmation for the ANGEL card is,
The Angels of light bless me with peace and love.
Here, immediately is a verbal gift of positivity, consolidated by the beautiful bespoke angel image by UK Belly Dancer, Pauline Marshall. The angel in this card emits delicate colours and a soft, glowing aura of protection and calm. She has expansive feathered wings and seems to be in a heavenly place with a crown of light behind her.
Affirmations are easy, short, memorable and powerful. But how often do we allow ourselves to deliberately uphold and confirm beauty, strength or optimism? Take a long, nourishing breath, gaze gently at the ANGEL card and say the affirmation out loud or in your head if you prefer to start your connection. Perhaps return to the card and affirmation over several days as you distil and absorb the energy of it.
What do angels mean to you? Do you have an association, memory of angels or an idealised vision? Is there a specific angel that you resonate with? Most people smile gently or feel a subtle serenity when angels are mentioned or when this card is picked. Angels can do no harm; traditionally they are associated with guidance, support, magical transitions and protecting the spaces between life and death.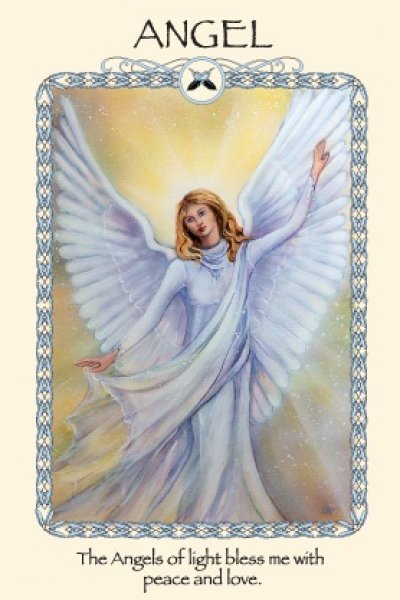 The Treasure Pack

The Belly Dancer's Treasure Pack - Exploring the Cards

In your dance evoke angel energy by tuning into dreamy, slow, ethereal music. | Photo: Guinevere Clark |

Call on your Guardian Angel before dancing or at a key point in your life; ask for specific qualities to instil you or for a message. You know what you need.
In your dance evoke angel energy by tuning into dreamy, slow, ethereal music. Avoid anything with too much bass or drums, there's lots of room for that elsewhere in your Belly Dance practice! For angel dances - keep your music choices exceptionally light and slow, wind instruments and New Age music are ideal.
Your dance moves are always guided by the music but with angels as your theme, technique may be further honed by gentle, travelling steps, arabesques, heart-felt chest moves, delicate shimmies and skyward gestures. Maintain a tranquil, unruffled approach in your angel dances, you have already committed to the angels, let them do the rest!
Isis wings are an obvious prop choice to immediately take flight, use them with delicacy but firm control, feeling the strength in your upper body and arms as you guide the shimmering fabric through the air. Try working with a sword as a symbol of strength and courage; Archangel St Michael's sword is linked with truth and cutting away anything that which no longer serves your highest potential.
Imagine that your audience are angels to conquer any nerves! This one really works; your audience want you to do well and enjoy yourself, relax and feel reciprocal warmth and support from them. After a show or as a cool down in class allow for silent relaxation, visualise a clear, shining aura of protection around you.
Generally angels are associated with light so wear white, silver or gold costumes to accompany your evolving angel dances. Use flowing, iridescent or transparent fabrics and lots of glitter!
Throughout history angels are depicted as dancing in lines, choruses and sacred circles - consider this in your troupe patterns. Add intimacy to the troupe with held hands or arms and interlinked patterns to bring real support to your dancers.
In your everyday life, look out for and welcome exceptionally helpful people, uncanny circumstance or a simple white feather in your path to remind you that the angels are near. Tune into angel energy before you sleep to welcome their messages into dreams and visions. Follow any path that you feel the angels have guided you on and enjoy learning more about their realms.
Angels can bring unexpected relief or opportunity to you. Be clear and simple as your work with angels in your dance and everyday life, often that is all we need to do to move our energies into spaces of limitless love, inspiration and wellbeing!
The Treasure Pack

The Belly Dancer's Treasure Pack - Exploring the Cards - In your dance evoke angel energy by tuning into dreamy, slow, ethereal music. | Photo: Guinevere Clark |

PYRAMID
- Through this Coins card we can highlight structure, shape and grounding in our dance. The mystery of Cairo's ancient pyramids is brought into our awareness. This bespoke painting is by Marta Marencic-Naik from Croatia, we met in Cairo at an A-Z Belly Dance event. Marta did a great job capturing the Giza Pyramids and creating a sweet dancing duet in a lovely pyramid inspired pose. The affirmation is,
Pyramid Power is always open to me!
With a wide base and three or more sides reaching to a peak, pyramids are suggested to offer release into other worlds through the pinnacle. It is said to be a shape of transcendence. The Great Pyramid of Giza was thought to be built for the Pharaoh King Khufu as a tomb around the 26th Century BC. It stands today as majestic as ever and many belly dancers enjoy having their picture taken in the golden desert sands under its powerful stance. It is the longest and last standing monument of the Seven Wonders of the Ancient World.
How can you work creatively with the PYRAMID card? Perhaps start by meditating on the pyramid shape or sit in or by one to access some fresh ideas for your dance.
Pyramids inspire us to make clear, bold lines and form solid structure in our dance. Use arrow head and triangular troupe formations with the tallest dancer at the far apex. Or add a grand prop at the top of the peak. Raise Saiidi canes, Isis Wings, veils or arms to form a peak in your group.
If you are dancing as a solo act, perhaps move along a triangular floor pattern, use precise Pharaonic hand work and gesture towards the space above you to connect to the energy flow of pyramids.
An exciting exercise for a group would be to design pyramid backdrops, stage sets or project images of pyramids into your performance space. As soon as we see the Great Pyramid we are transported to an ancient and mythic place, where time seems to stand still and our imaginations can soar.
Work with triangular veils and use triangular shapes in your costume to create sharp, dramatic angles with fabric. Add a traditional Egyptian feel with gold, white, deep red and turquoise colours.
Pyramids remind us to be grounded in our dance, to have a firm and supported base. Work from steady feet as your reach to and embody your Higher Self.
The Belly Dancer's Treasure Pack
is a 58 card set and guidance book and can be bought through
http://www.baubo.co.uk
or via The Bellydance Superstars.
I welcome your feedback
, thank you, and Happy Dancing, Guinevere x
Images copyright 2011 to artists – Pauline Marshall – ANGEL, Marta Marencic-Naik – PYRAMID.