A really talented belly dancer captivates her audience through unseen energy, as well as the visible beauty she creates. There is an intangible way in which she guides and holds the audience, directing their attention at will. Here is how it's done.
1. Have an interesting entrance:
En-trance your audience. See that they are captivated the minute you arrive on stage. I remember going to a drumming performance where the first musician came out with his back to the audience and didn't turn around until it was absolutely quiet in the room. Everyone became silent with anticipation for the first sound of his drum. Have your plan of entrance: perhaps just zills from backstage, you covered in veils, special lighting, you circling the space, or smiling with a dance greeting of enthusiasm.
2. Project your energy:
Make sure your energy projects all the way to the back of the room, not only the front row. You can do this by imagining that you are relating to absolutely everyone there, especially the person farthest away from you way in the back row.
3. Get lost!
You need to get lost in what you are doing. One great secret is that the audience will feel what you are feeling. Energy is contagious. People are wired for much greater sensitivity then we usually acknowledge. Once you have gotten their attention they are very susceptible to feeling. Much the way you may feel a jolt in a surprising movie. It is a kind of hypnotic underlying bond. If you revel in feeling, they will feel what you feel, and get lost in it too. It's what they want to do.
4. Make eye contact and don't make eye contact:
Yes, use it when you want to make a definite hit: either happy, serious, direct or shy, they will absolutely look at your eyes. The eyes reveal the soul. If you alternate between going inward and then looking directly, you will keep their attention.
5. Play among the rhythms, don't always follow the drum exactly:
You can become too predictable if you always follow the rhythm, and that is not fascinating. Create anticipation and surprise by relating to the tempos, rather than being controlled by them. Slow down and accent only some of the beats, or add more shimmies during the chifti telli to embellish the more subtle rhythms. It is like following the rules and then breaking them with artistic license. This mastery creates wonder.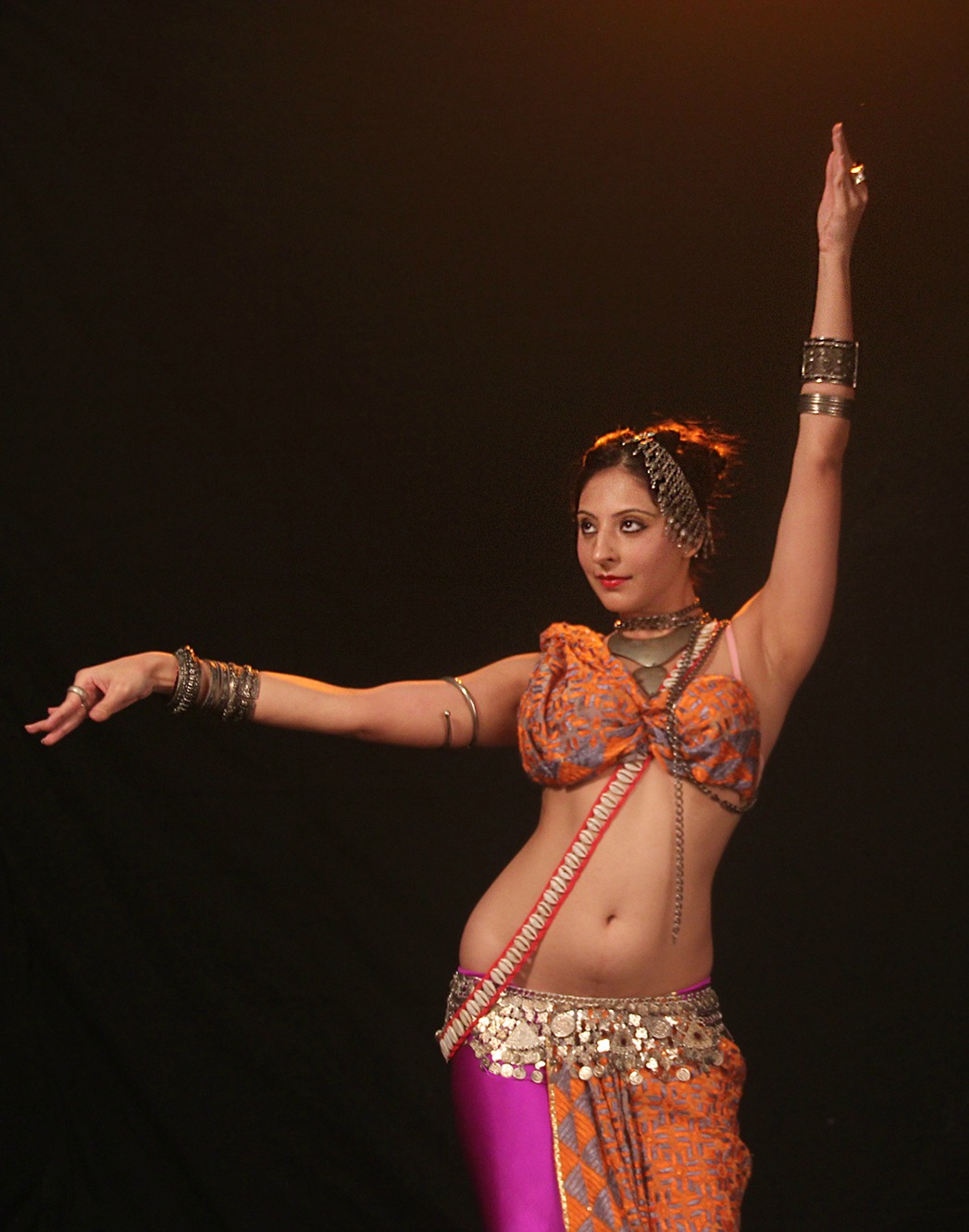 Sanjana Muthreja

Sanjana Muthreja has been influenced by the Middle Eastern culture since the age of four and began belly dancing 8 years ago. Since, she has become the co-founder/director of KOHL Belly Dance MOVEMENT, the largest belly dance company in Mumbai.
She has completed 5 years each of Kathak and Yoga and is also an avid Bollywood-style enthusiast. An ingrained sense of the Arabic culture gives her an inherent urge to learn all she can about the form, and also travel around the world to learn from various master gurus. She has learned from and has attended diverse workshops and intensives conducted by Bellydance Superstars and master artists of cosmic repute. | Photo: KOHL Belly Dance MOVEMENT | Link |

6. Sense and feel everything that is happening to your body:
Cultivate body-wisdom, and use this wisdom while dancing. Performance level heightens your sensitivity. You are being observed, by others as well as yourself. Using all your senses creates a natural high that others will share while watching you. As your heartbeat quickens, their heartbeat will go faster. You can practice increasing your awareness while rehearsing. Use the mirror to heighten your visual understanding, listen to music with ear buds to hear the nuisances, and practice with musicians in order to know how they play. Feel your breath, your muscles, and your energy; and use all of your emotional understanding when dancing. Sometimes a wonderful teacher can help you to cultivate these qualities. Seek out the teacher that inspires you to be your best.
7 Wear a beautiful costume and feel comfortable in it:
Don't let costume distress distract you from moving freely. If you look good, but don't feel good, it will create a negative effect on your performance. Take the time to carefully try on the costume exactly the way you will wear it, and try a dress rehearsal.
8 Whatever mood you are in, use it to the fullest:
Many times I had to dance when I was sad, or angry, or happy. Use your natural mood to enhance the purity of the dance experience. Everyone knows those feeling too, and the fact that you can articulate, cultivate and express authentic emotion captures people's hearts.
9. Always warm-up:
physically and emotionally. Prepare to perform by getting a little nervous. No butterflies and you might have a ho-hum response. Also, if you do not warm up your body you are far more likely to injure yourself. When I think back, the only times I pulled a muscle, or worse, was when I was rushed and didn't take the time for a proper warm-up.
10. Stop.
Some things are better said with silence. It is the same with dance. A pause can make the audience hold its breath....like just the moment before a diver dives, or a speaker speaks, or a panting is unveiled...you unveil something special after a pause. Stopping is actually part of the dance. It is like the space between breaths.
The more authentic you become about sharing your gifts, the better you can mesmerize your audience. It will happen because you want to give them the gift of dance.