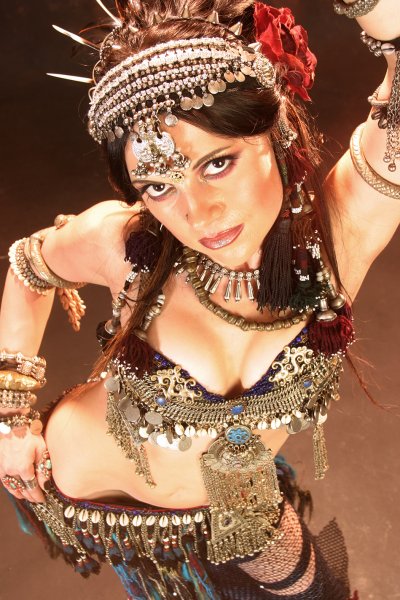 Moria Chappell
Tribal Fusion Superstar, Moria Chappell, travels worldwide performing and teaching the beautiful art of Tribal Fusion Bellydance. After lengthy stays in India learning the Mahari tradition of sacred temple dance, Moria is credited with creating the new tribal genre "Odissi Fusion." | Photo: Aaron Stipkovich | Link | Moria Chappell, Bellydance, Dancer, Odissi Fusion, Tribal, Teacher, Performer,
Tips for performing in public – by Miriam Cunha
As dancers and performers, we spend a lot of time worrying about counting the steps and creating choreographies, as well as getting shinning costumes and outstanding dancing clothes and make up. But we forget that there is more to a performance than our beautiful clothes or the exact steps to our piece. Here is a collection of what I consider very important things to know that will help you to have a successful presentation.

Love the songs you dance. Have your heart and soul connected to the song you are dancing and your body will flow naturally through the steps and moves you make. Even if you don't understand the language, research the meaning of the lyrics or the style, so that you can get the feeling, and make a great interpretation of the song with your dance.

Smile, have fun, and show your emotions. You need to show your audience that you are having a good time, because lack of emotions does not come over well to the audience, they can sense what you're feeling. Show them you are having a great time, and you will create a connection 'ripple effect' between you and the people who are watching. Don't exaggerate the feeling for the song, but don't look too serious the whole time you are performing, unless that's the interpretation you want for your performance.

Use the space around you. Just standing at one single place on stage can make it look like if you're nervous or not comfortable with performing in public. If you constantly move, even just a little bit, your motion will attract the audience's eyes. Look up some of your favorite dancers on YouTube to see what they do on stage, and explore the possibilities for your choreography or improvisation dance.

Study moves from big dancers. Learning from well-known dancers helps you to improve your skills. Dina from Egypt for example, is renowned for her stage presence and great performances. Don't copy all of their moves or routines, you don't want to look exactly like them, but take what you enjoy the most from the performer and make it your own. Take workshops, look for videos, and keep learning, this art is a constant learning.

Make use of facial expressions and postures. Dramatically expressing emotions makes of your performance unforgettable! When expressing your emotions through facial expressions and poses, you connect to the audience and make them feel like they're part of your performance. Remember to relax your lips or eyes, and to let your feeling for the song allow you to be spontaneous with your expressions.

Share the stage and audience attention. When dancing in a troupe or with live drumming/orchestra, you have to let other artists have the spotlight, for you are sharing the stage with them. Otherwise you'll start creating a bad feeling between you and your fellow artists. Although it's great to shine on stage, dancers need to build up community and respect among each other.

Start a conversation with your audience. Things like looking in their eyes and clapping will involve the audience and get them to clap along with you, as well as force them to pay attention to your performance. Some dancers also sing a line along with the music, or even get people up to dance with them!