Please visit our sponsor.
It was Miles Copeland who dreamed up the idea for Bellydance Superstars.
"

"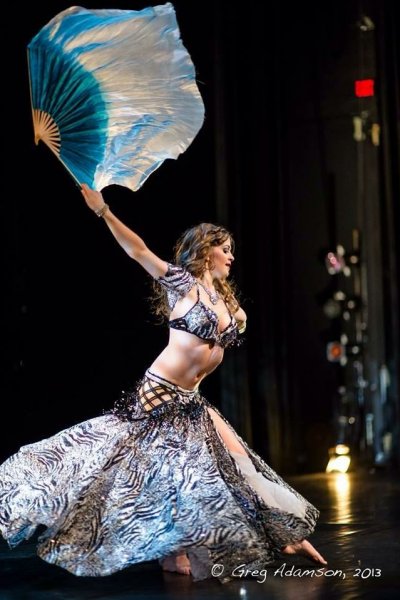 On the cover:

Ansuya Rathor
Ansuya is a second generation, internationally recognized superstar of Bellydance with thousands of students across the globe. She is a three time Golden Belly Award winner, has a Best Cabaret Bellydancer of the Year Award from the International Academy of Middle Eastern Dance, and is one of the original Bellydance Superstars. Along with modeling in Hawaii and Japan, Ansuya has had numerous television appearances as both a Bellydancer and an actress including, Days of Our Lives, Judging...
Bellydance Superstars tour
[Comments] Middle Eastern bellydance is a legitimate form of art, a serious form of dance and a sincere celebration of women. To become a professional bellydancer at all is not easy. A student has to study for years with several professional teachers to properly perform the intricate and graceful flowing movements that make up bellydance. Each movement takes a great deal of practice and expertise to master. Even then, only a tiny fraction of professional bellydancers ever get to tour, and only an elite few can tour with Bellydance Superstars.

(This is a selected flashback article from The Montgomery News, 2012)

Bellydance Superstars brings this ancient art form to mainstream modern culture around the world and shows firsthand the beauty and professionalism of bellydance.

It was Miles Copeland, a superstar manager of rock's hottest bands, who dreamed up the idea for Bellydance Superstars. He set out to create a fast-paced show that competes with any ballet, or with "Riverdance." The result is a meticulously choreographed and exquisitely produced masterpiece featuring dancers not only at the top of their profession, but possessing the elusive star power that can captivate audiences from hundreds of feet away.

According to Copeland, the Bellydance Superstars tour has changed the popular perception of this ancient art. At the same time, the changes in the show itself from year to year are significant.

Copeland explained: "As we have progressed beyond the pure bellydance fan base, we have picked up more and more of the mainstream dance interest. People who would go to see shows like "Riverdance," tango shows, flamenco shows, even some modern and jazz dance, now know that we can put on a show to compete head-on with those types of dance shows.

"Along the way, this has meant we have had to keep pace with expectations so our dancers are always improving, and at auditions we have a harder and harder time finding dancers who can do what we do.

"We are lucky at the moment to have our strongest cast yet — so much so that what would have been the 'back line' in the past vs. the stars in the front, has now blurred to the point that all the dancers become featured as they are that good.""

But you do not have to be a fan of bellydance to enjoy Bellydance Superstars. Copeland promises "a dance performance incorporating all sorts of styles into the basic bellydance, pushing the boundaries of dance in the mainstream generally.





From Bellydance Superstars' beginnings in 2003 as part of that year's 45-city Lollapalooza tour, performing to more than half a million people, through last spring's European tour, they have set a new standard for bellydance and proved that Middle Eastern bellydance does have a wide appeal for Western audiences.

A number of the high-caliber bellydance performers in Bellydance Superstars are expert bellydance teachers as well. The tour stops often include Bellydance Superstars workshops, which are a valuable experience for dancers in the various disciplines and styles of bellydance. Whether it is for entertainment, fitness, or fun, bellydance is reaching the general public around the world, and clearly the Bellydance Superstars are inspiring and leading the way.

Along on the "Magic of Dance" tour is Sabah, who joined the Bellydance Superstars in 2006. Sabah explains the meaning of her professional dance name.

""My name is Sabah, which in Arabic and Turkish means 'morning.' I was given the nickname while living in Egypt, where people would always comment that I looked like the famous singer named Sabah because I have blonde hair and look so youthful onstage. I love the name and it does have a special meaning to me, as it reminds me of a great time in my life and I have really embraced the name both on and off the stage.""

It was Sabah''s early experience with ballet that led her to bellydance.

As she explains, ""I have been dancing all of my life. I started as a child, then apprenticed and joined ballet companies as a teenager. After high school, I discovered belly dance and have been in love with the art form ever since. I consider myself a lifelong learner of dance and enjoy both performing and teaching dance as a full-time career.""

Sabah continues, ""a professional belly dancer is one that has mastered the technique of the dance and has the ability to perform it with ease and personality to an audience

We only perform in theaters so the technique needs to be able to translate on a large stage and fill the space."

The current "Magic of the Dance" blends a variety of dance styles including traditional bellydance and modern interpretations, with elements of jazz, ballet, contemporary, Indian dance, hip-hop, and Southeast Asian stylings, along with theatrical elements.

"This is not your average belly dance show," Sabah assures us. "There is something for everyone.""
Miranda Leonardo, Contributor: I am an Italian-Indian woman, who has loved the art of dance since I was a child. I admire only, and dance privately for my own internal strength and independent study. I graduated Duke University in 2005 with a Master of Arts in History. I am working on my PhD in History, enjoying my family, and will never stop dancing. (more...)