It all started at the cutting table in the fabric store, just as the employee cuts the last snip of my black chiffon for a new costume underskirt, I see something ridiculously sparkly in the far corner of the store. It is black, white, printed, and drenched in silver sequins. I immediately left the cutting table and ran towards the mystery fabric. As I got closer and closer, BAM! It hit me... love. A perfect concoction of zebra, leopard, and snakeskin print all in black & white (my favorite combination) and topped with a layer of silver sequins. I took the bolt with me to the cutting table and requested all of the material. I didn't know what I was going to do with the fabric, but I had visions of all sorts of things: a fun printed full skirt to match my bra & belt sets, a stage effective bralette and belt or even absolutely insane exercise leggings. Who knew what it would turn into, but it could be epic.
After a month of contemplating what this fabric could be, I came to a decision. I was going to make my first full cabaret dance costume. To add to this extensive undertaking, I have never made any arm decorations, belts, bras on my own... this was going to be interesting. Thankfully, I was going to spend the holiday months with my family, giving me access to my mom's sewing knowledge. She used to adjust my costumes and make full sequined bra and belt sets for me. She could make the smallest or largest costume fit me perfectly. She would take the beading off the cups, cut them down, and then stitch back on everything. You would never guess they were altered. Needless to say, I had the perfect mentor. We set it up to where I would cut, stitch, and bead everything and she would let me in on her years of costuming knowledge. I would have made many mistakes and had many heartaches without her advice.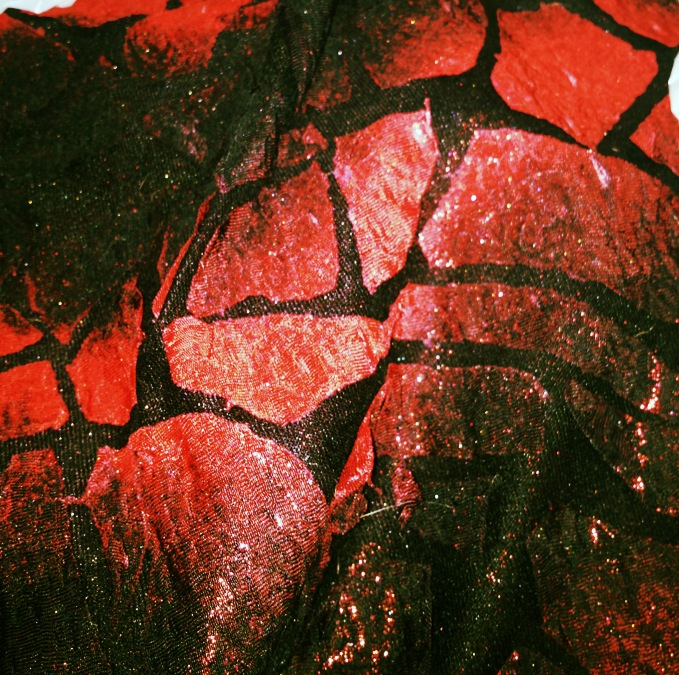 Snake fabric

A snakeskin fabric from Victoria Teel textile adventures, in Miami. | Photo: Victoria Teel |

We began the endeavor in December and about a month later, I gained a greater admiration of anyone who makes anything for the stage! With sore fingers, a thousand needle pokes, and over 26,000 seed beads, all the black and white is meshing into grey. I have almost completed the skirt, just some more fringing to go. The bra is almost there as well, but the arm decorations don't exist yet. I have to get on that. The costume is slowly developing into what I envisioned. It is for my new Club Bellydance solo, a fiery piece with all sorts of fusions and concepts (that's a story for later). Seeing it all together will be the finale of the project.
And now the costuming frenzy has spread! I have worked on other costumes since then. Adding more stones, adjusting skirts, and even falling in love with new fabric, starting the whole cycle over again! I found this one at an amazing lycra store in Miami. And now the question is, what will this fabric be? Any ideas?
With love and sore fingers,
Victoria